TAIJI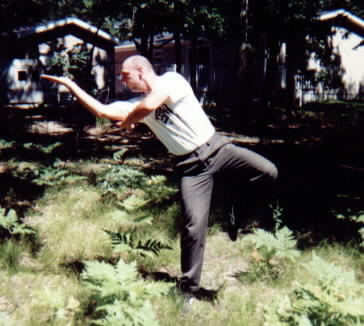 Most of us are at least a little familiar with taiji. It is spelled a few diferent ways but don't let that confuse you. Arguments about proper pronunciation and spelling are redundant. Spelling in english is a matter of conjecture. After all they are just translations from chinese characters. Popular forms of Taiji are Yang, Chen, Wu, Wu(Hao) and a few others. These popular forms have a history of just a few hundred years, but are derived from ancient Taoist practices going back perhaps 5 thousand years. I practice the popular Yang style and a hybrid style called Taiji Mantis which has some Shaolin influences and isn't necessaily performed with deep stances. Also, I practice the ancient form of the art that is taught by Grandmaster Yuanming Zhang. You will find a number of Grandmaster Zhang's videos located on the homepage.
Taiji is said to be directional in that it's footwork is diagonal while its hand movements are circular. Taiji also differs from Pakua in that the feet do come to rest, but the hands don't. Most of us have only seen the popular forms of Taiji where the movements are performed slowly. This is to develop rootedness, balance and strength. However, the forms can be done either slow or fast. It's just that in order to have good technique with speed all of the proper elements have to be developed over time by practicing the movemetnts slowly.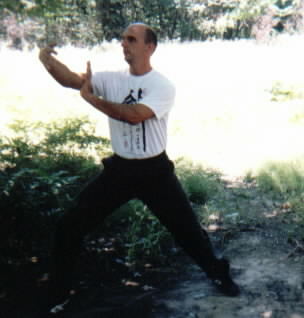 Remember, Taiji is for fun and fitness. There are a lot of magazine articles and statements made by pratitioners advocating one form over another. There are a lot of people saying that the art isn't being taught like it used to be, or that no one isn't doing push hands right, etc.
This is all useless talk and goes against the grain of what Taiji ultimately teaches. We go back o our primeval roots where yin and yang took shape and evolved. We go back to the roots of our existence mentally and establish a connection with the thread of our lives. We maintain this connection and experience each situation with equanimity. We don't follow a 'this is the way it oughtta be done' approach in taiji. After all, the popular forms of Taiji today were established by those who had learned the old ways first.
I have a number of videos available on Taiji listed on the homepage. I can also put ogether personalized instruction videos. Stay tuned this website because i will be publishing some short forms and techniques here in the future and I am always updating the site.